Here I would like to give you an idea about the important points that you should take into consideration when planning a day ski tour. If you use this as a check list I hope it will make your planning easier.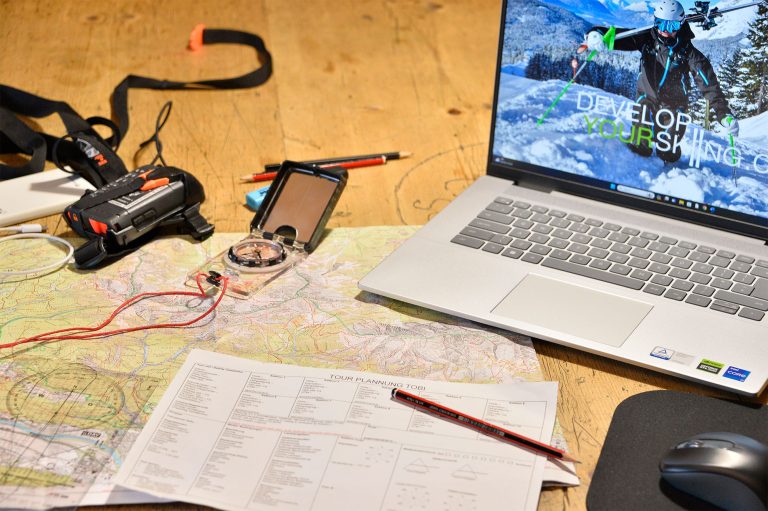 Who are the people in the group?
This is a very important point as you need to take into consideration their ability as skiers, their experience ski touring, their physical and mental fitness, and then you need to plan an appropriate tour to give them the best experience for the day.
Equipment
What kind of ski touring do you like? How do you choose your setup – ski binding and boots?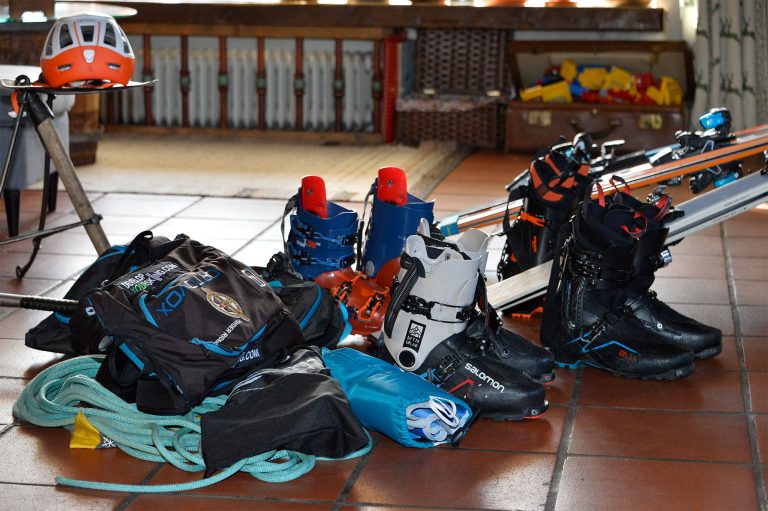 There is a wide variety of different types of ski touring you can do. You need to decide which type is for you because there are different set ups in equipment, boots, skis and bindings that are more appropriate for each four types of ski touring described below. Once you have an idea of what type of touring, the second half of the description below will give you an idea of the kit you will need. This is a very important part of the planning, and you give this good consideration to get the most out of your ski touring, and hopefully come back with some wonderful experiences.
The Allrounder – A little bit of everything
A good set up here in general, is effective and functional in a variety of situations. You might be going on an easy slope tour with friends that are just starting out, or you might be planning to go on a longer skin up and want easy up time and a fun ride down. So, an allrounder tourer wants a fun time up as well as a fun time down, which might require you to make some compromises for your equipment choice to get the best for both up and down.
Ski & Boot Guide
The generally a suitable width of skis you would consider is between 82 – 90mm wide under foot. This width will give you a good up and down experience. (If you are slope tourer go for a 82mm under foot, if you are a more off the slope skier go towards 90mm under foot and you will bring a smile to your face…..)
Heavier the skis will give you a more stable and balanced experience downhill. By contrast, lighter the skis are easier for up experience but not as stable downhill. The starter in the ski touring sport who wants to take things easier and enjoy both up and down might benefit from a lighter ski.
The most appropriate all-round bindings would be a light weight Tech Hybrid binding. But when you choose your bindings, you need to make sure the touring boots you choose fit and work with the binding system, so best shop for the binding system and boots together.
The all-round touring boots come in different buckle models – 4 buckle, which will give you a fun stable ride downhill – and 3 buckle models, which will give you more flexible movement while going uphill. These lightweight, flexible boots are relatively stiff at the same time and therefore perform well in descents.
The Uphill Ski Tourer – The goal is up and more up
Here the goal is the most effective and easiest way to get up and as many vertical meters as fast as possible in a day's tour or over a few days going from hut to hut. To achieve this, it is all about the lightest set up, the least amount of weigh to take with you to help you move as fast as possible.
Ski & Boot Guide
When choosing your set up you must decide whether you are looking for a good lightweight and agile boot for a relatively narrow skis for going uphill, or whether you want to try and combine this with a good downhill experience which would require a more all-round tourer boot.
The skis you choose, here you must decide whether the goal is to go uphill or to enjoy a little bit of downhill. The lighter the skis have the narrower the waist width of 72-82mm approx. These skis will give an excellent experience while traveling up hill.
The wider the skis are, waist width of 82-95mm approx. will give you more stability and floating qualities, on the varied challenging terrain and snow while skiing downhill thus giving you more control and a fun ride down. So, a ski with 88mm waist gives you good qualities going up and coming down.
If you want an easy up time as a tourer, then the binding that will best suit you will be the light weight pin binding. Look for one that has preferable an adjustable din release setting.
If you are looking for an easier up time, then you want to take into consideration what touring boots you buy. The allrounder touring boots are lighter in weight have 2 or 3 buckles and have a good range of flexibility and range of movement when going uphill.
However, heavier models of touring boots generally perform than lightweight touring boots on the downhill.  Additionally, the weight reduction also means less insulation.
The Freeride Tourer – Powder snow / untouched terrain 
This is the group of tourers that want the best most perfect ride down on the steepest, deepest, and best untouched snow that they can find! For this group getting up the most effective way, using a lift and self upward motion, using as little energy as possible, to find steep faces, challenging couloirs, fast turns, and high drops is the objective.  Escaping the busy slopes to get that free and open feeling is the dream shared by this group.
If you, like me, enjoy being off the ski slope and away from all the crowds, experiencing the freedom of the open mountain and all the varied terrain, steep and deep then you are in the freeride scene. With a pair of fat skis and skins the mountain is yours, you can explore where you want. Finding those untouched faces of powder snow or the narrow gullies is the goal.
Ski & Boot Guide
The width that a freeride touring ski generally start at is 95mm under foot and will give you great performance skiing downhill.
This type of touring set up is focused on the down time and start at 95 – 110 mm under foot, there are wider, but those models are more for the very deep and steep and are more targeted at the professionals in competition freeride events.
With this type of set up there is more weight, stiffer skis and more stability, but you can really let loose and rip up whatever is under foot and in front of you. A lighter ski with the same width will perform well in fresh light powder but when terrain is tough and challenging the lighter skis will dramatically lose performance.
The Tech Hybrid bindings are ideal for skis with a freeride touring set up and a frame binding with a din release setting.
However, not all ski touring boots will work with the frame bindings. So, check before you get a new boot or binding for skis.
Freeride touring ski boots are generally a lot stiffer and more stable with a 4 buckle system. They will give you a more powerful transfer of strength to your skis, give you a greater feeling of connection with your skis and transmit every movement to your skis. 
The Mountaineering touring – Climbing and ropes
This is the ultimate group of tourers; a combination of all the above where you can get the experience of a lifetime. The adrenalin rush, experience of the mountains in their full face. Just amazing WOW days touring high altitude glaciers from peak to peak.
Ski & Boot Guide
Many go for a narrower ski and ultra-lightweight pin touring bindings to get the lightest set up. The ski industry is creating some incredible new technology that is light without sacrificing safety or your ability to charge down the mountain and there are some great products on the market to choose from.
Boots are an investment, but the correct boots make it easier to climb in the challenging conditions. You need a good range of movement in your boots with a good sole so you can attach crampons. Good ski mountaineering boots feature grippy soles for travel on ice and rocks. Work with a boot fitter to get a boot matched to your foot, and to mould custom insoles. You'll want your boots as comfortable as possible. The key takeaway: Don't scrimp on your boots.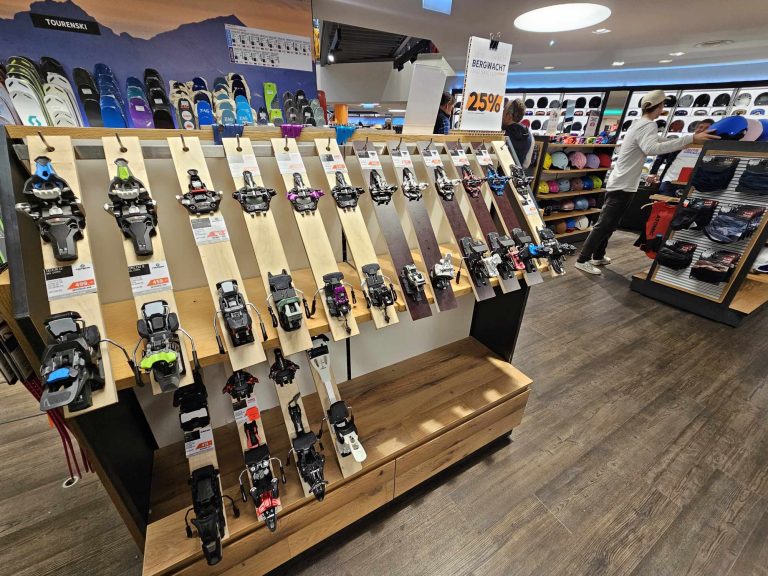 GENERAL EQUIPMENT GUIDE
Backpack
What functionality does a good backpack need?
Optimum size – 30-40 litres is a good target for day touring. With packs smaller than 30 litres, you'll need to focus on traveling light. Going beyond 40 litres is just asking for a heavy pack.
Enough volume to accommodate your equipment for a day's tour
Stable fixation of skis
Robust
Clothing
Insulated jacket.
Soft shell or waterproof-breathable jacket and troiusers.
Base layer (top and bottom).
Mid layer (top and bottom).
Warm hat.
Sun-protective hat and sunglasses (and sun cream).
Liner gloves and waterproof, insulated gloves or mitts.
Liner socks and thermal socks.
EQUIPMENT TO TAKE ON A DAY TOUR
Avalanche Safety Essentials
Avalanche transceiver/beacon
Shovel
Probe
Notebook
Emergency Phone Numbers
Communication and Navigation
Mobile phone (external back up battery pack)
Map ordnance survey 1:25 000 and/or GPS/navigation app
Compass
Basic Self Care
Food
Water
Sunscreen
Extra layers
Headlamp
Helmet
Group Gear
Basic repair kit
Multi-tool
Ski wax
Emergency kit/first aid kit
Important information you need to consider when planning your next ski tour
Avalanche report, avalanche problems, danger patterns, mountain danger hazards, altitude, Exposition/ slope aspect, slope gradient and weather/wind.  You can find this information from avalanche report, from Apps, locally in ski resorts from local ski guides local tourist bord lift company.  (More details below)
Apps and web sites
Here are some good apps and web sites one can use to help plan your days skiing and tours. They have lots of useful information like detailed 3D maps, weather maps, weather forecasts, daily avalanche reports, educational/tools, information on incidents/snow profiles/snow stations around Europe, mobile phone GPS apps, planners and emergency report apps. They are in English as well.
With the GPS/app download offline area you will be doing your tour in, external battery pack needed as well.
Fat map
Windy
YR
Lawine
Avalanche.report
Lawis
Apemap (external back up battery pack advised)
Otrovox
SOS EU ALP
Meteoblue
Bergfex/ski
When you have gathered all the information, and you know who is participating in the group, you can start to plan the next day's tour.
Strategies Stop or go and 3 x 3 filter planning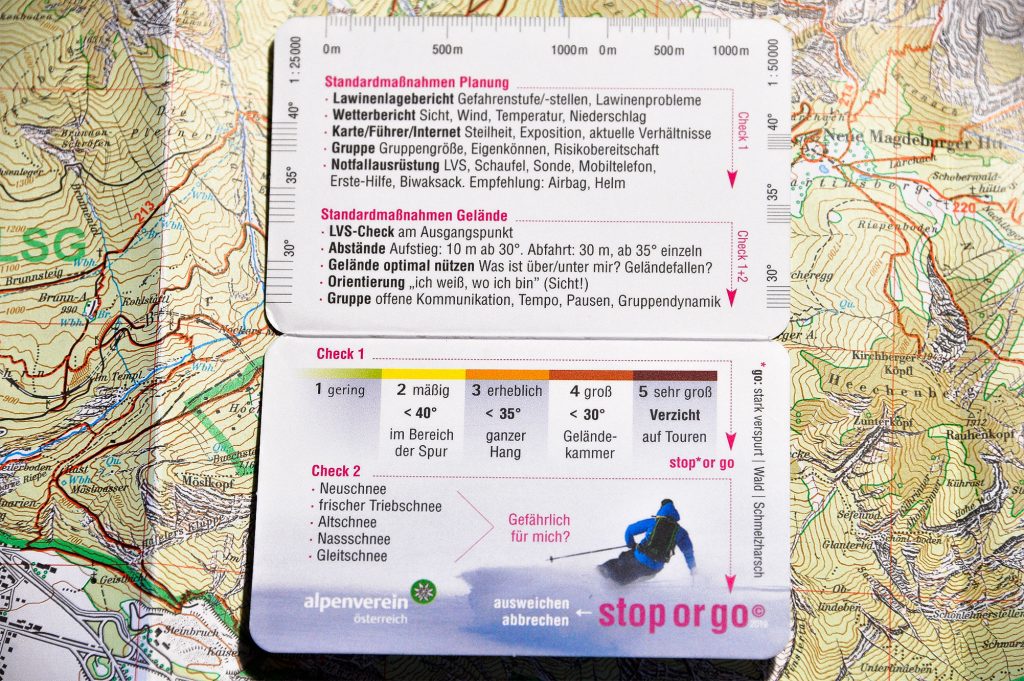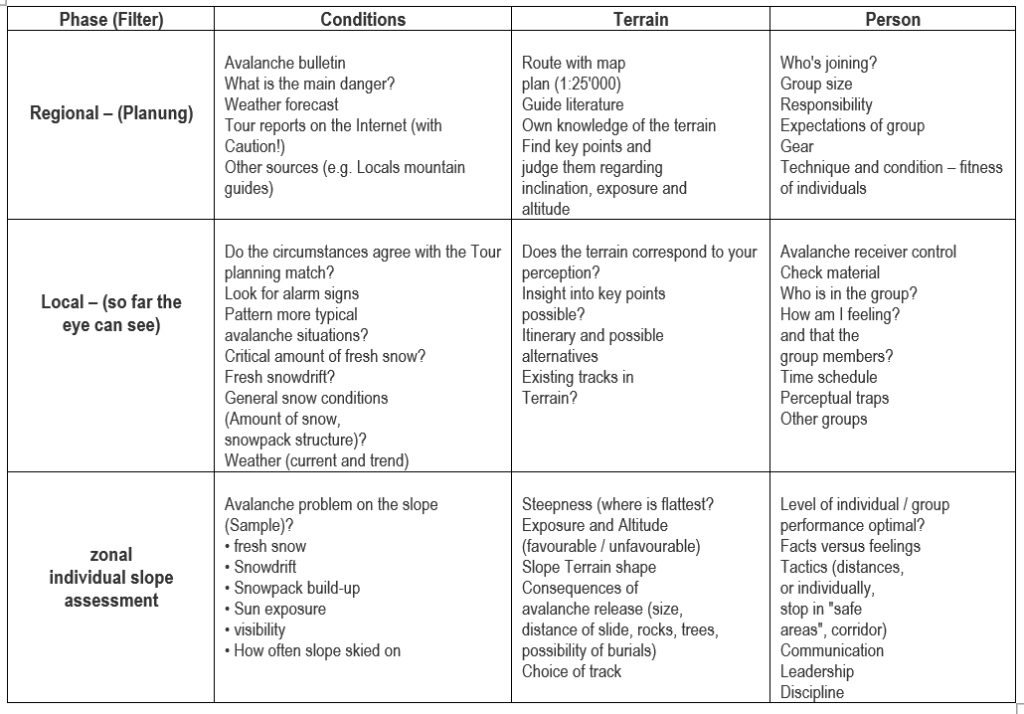 Destination and choice of tour
This will depend on the experience and group dynamics, level of the group, ability, physical and mental fitness, set up equipment and snow conditions.
Then you need to take into consideration the time of year. Early winter, mid-winter or spring and the time-of-day, altitude and slope/aspect exposition weather and weather forecasts for the day and coming days. When one has an idea of this only then can one start to plan a tour.
Below is a detailed plan and guidelines for information one wants to gather to plan a god fun safe day or days touring in the mountains.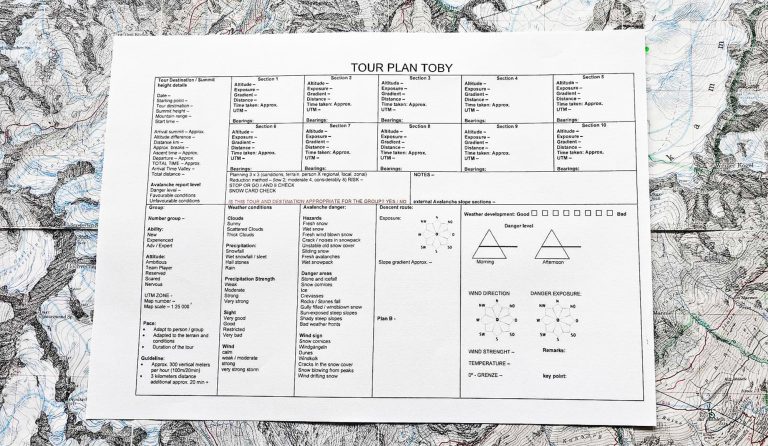 The plan and route
The above tour plan shows different aspects of a tour and information you can obtain to put together a good day.
Remember the plan is dependent on weather, avalanche problems, danger patterns, mountain danger hazards, group dynamics and physical and mental fitness, which can all change very quickly on an open mountain. Strategies shown in the "3 x 3" above are useful to adopt to help cope with changes you might face on your tour.
The information and guidelines you can see on our site give you general guidance about your individual plan, so stay safe and have fun on your next ski tour.